Dedications I-V
Role • Director, Writer & Editor
Timeline • 1.5 years
Premiere Date • May 3rd, 6-8PM at the Miller Institute for Contemporary Art, Pittsburgh
Length • 24 minutes

This film will be

screened at the New York City Independent Film Festival on June 4th, 2020.




︎

FESTIVALS, AWARDS & GRANTS





Birnbaum Award • for Excellence at the Intersection of Media, Art and Technology.

Dietrich Humanities Prize • for Work that Best Exemplifies the Humanities at Carnegie Mellon

Frank-Ratchye Fund for the Arts at the Frontier (FRFAF) • to help fund works that can be described as "thinking at the edges" of the intersection of disciplines

"A refreshing experimental film about progressive memory loss that struck us deeply." - Bryght Young Things NYC

"I love this unique approach to replicating what it's like to lose memory. This film sweetly captures experiences from five people who have been diagnosed with progressive memory loss" - Stylist Rachael Wang


---


Dedications I-V is a short film composed of individual tales on memory as told by people with progressive memory loss. The short is based on neuroscience research, suggesting that memories can be made more resistant to degenerative disorders through the use of active recall. Through this method, the film is meant to act as a visual document of the protagonists' memories, as well as a tool to strengthen them. This short was made using depth data with depthkit, the kinectv2 and unity, taking advantage of the medium's loss of frames and visual inaccuracy to contribute to an already fading narrative. According to Scatter co-founder James George, it is also the longest film ever created using Depthkit. Original score by Alexander Panos.


︎

CONCEPT & NEUROSCIENCE BACKGROUND



Dedications I-V is a short volumetric film composed of individual tales on memory as told by people with progressive memory loss. The short is conceptually based off of neuroscientific research (Andrews-Salvia, Roy & Cameron, 2003), suggesting that the use of 'memory books' have helped slow down the erosion of specific memories. Through the process of active recall in the form of writing, drawing and collages, neural pathways are strengthened, thus made more resistant to degenerative disorders.

This project is a cinematographic memory book, so to speak. It is a visual collection of my interviewees' most significant memories. This film is meant to act as both a poetic document of those memories, as well as a tool to strengthen the neural pathways related to them.
Installation of Dedications I-V at the Miller Institute for Contemporary Art


The film itself is composed of five individual chapters with their own protagonists. The interviews were conducted using a KinectV2, which allows for the capture of both color and depth. Depth capture was chosen as the medium because its form and imperfect aesthetics inform the content. The loss of frames and the visual inaccuracy that depth data provides contributes to an already fading narrative.
A family of four watching Dedications I-V at the Miller ICA
"I really liked it but I wasn't expecting it to be so sad." - Romy (5 years)





︎PART I : CONCEPTUAL BACKGROUND AND LITERARY RESEARCH
Twenty years ago my grandfather was diagnosed with Multiple Sclerosis (MS), a degenerative disorder which affects the central nervous system and disrupts the flow of information within and from the brain. Being a doctor, he never shied away from addressing the situation with medical terminology, however never seemed to acknowledge the emotional consequences of the diagnosis.
'Evaluating the Effects of Memory Books for Individuals With Severe Dementia'
(Andrews-Salvia, Roy & Cameron, Journal of Medical Speech-Language Pathology, 2003)
The project started with an extensive literary research. I found myself very drawn to previous work on memory books and their positive effects on memory loss. In short, memory books make use of active recall through writing, drawing and collages to strengthen neural pathways related to specific memories. This suggests that, through the use of these books, one might be able to make chosen memories more resistant to degenerative brain disorders. What drew me to this technique was the sense of agency that came with it. Although the effects are slight and have not yet been proven, this method allows for a feeling of hope. It gives power back to the person affected by the disorder, functioning as a tool that can curate the memories that are worth remembering.




"Memory's images, once they are fixed in words, are erased," Polo said.
"Perhaps I am afraid of losing Venice all at once, if I speak of it.
Or perhaps, speaking of other cities, I have already lost it, little by little."

- Italo Calvino, Invisible Cities
Margaret Looking Out Her Living Room Window (Digital Photograph, 2018)




︎PART II : PHOTOGRAPHIC RESEARCH

I started a practical research phase in parallel, under the mentorship of documentary photographer Dylan Vitone. I valued being comfortable in traditional modes of capture and building relationships with strangers in order to create meaningful images, especially before moving on to emerging technologies.


Matt and Noah on the Port Authority 28X (Digital Photograph, 2018)



︎PART III : NARRATIVE BUILDING
I sent out a call for participants to the Squirrel Hill Jewish Community Center with the hopes of interviewing and photographing someone who had been diagnosed with a form of progressive memory loss. Three people contacted me, with only one person actually following through. I interviewed Margaret Laske a total of three times. She has been my main and most significant participant over the course of this project. I started working with her extensively, first only using photography as a way for us to get to know each other. At the time, I had imagined the documentary would be a year long recording of Margaret dealing with Mild Cognitive Impairment and her reflections surrounding the idea of memory. Unfortunately, as I spent more and more time with her, I noticed a darkness and defeat in the tone of the interviews. That development had not been obvious to me at the time, although in retrospect that surprised me. I found myself unable to keep working on my project, uninspired and unhappy with the direction I was working towards.






As creators, we have a choice in what we choose to put into the world for other people to experience. Something simply did not feel right to me. I kept asking myself, why do I want to make this? Who is this for? What is it meant to do for me, for the people I am interviewing, for the observers? Those questions answered themselves as I was interviewing my grandfather. I spent two hours asking him thought provoking questions about the notion of memory, how past experiences shape beings, what it means to loose the notions that contributed to who you are. These questions were all answered with difficulty on both a content and emotional level. I knew then and there that there was nothing for me to work with. As I was disappointedly wrapping up the interview, my grandfather asked, "Would you like to hear the story of the Brooklyn Pastram?" My grandma interjected immediately, saying that I had heard it many times before. "Why not", I thought to myself and let him tell it on camera because of how excited he seemed. The answer hit me like a brick. My grandfather is the best and most enthusiastic storyteller I know, he is one of the reasons I have decided to pursue storytelling as a career. I have sat through the same stories for over twenty years and have gotten to the point where I can quote him by heart. This is what he is good at, this is what he enjoys doing. This is how he would want to be portrayed.








︎PART IV : PRODUCTION

After that my progress became fast paced. There was a certain amount of content I wanted to acquire to make this document worthwhile, a quantity of work which was unrealistic for a single semester. So I threw myself into it. I decided to work with depth video, as I found that the medium's visual inaccuracy and loss of frames informed the content. I spent a large part of the first half of the semester developing a Depthkit-Video-Unity workflow. By the end of the semester, I had found an effective way to film in depth with the Depthkit software, video edit in PremierePro, execute camera work and 3D manipulation in Unity, export the footage in high resolution on the Ninja Flame, then to a final edit in Premiere Pro. I spent the entire semester carrying two laptops everywhere I went, in addition to the rest of the filming equipment I carried with me on shoot days.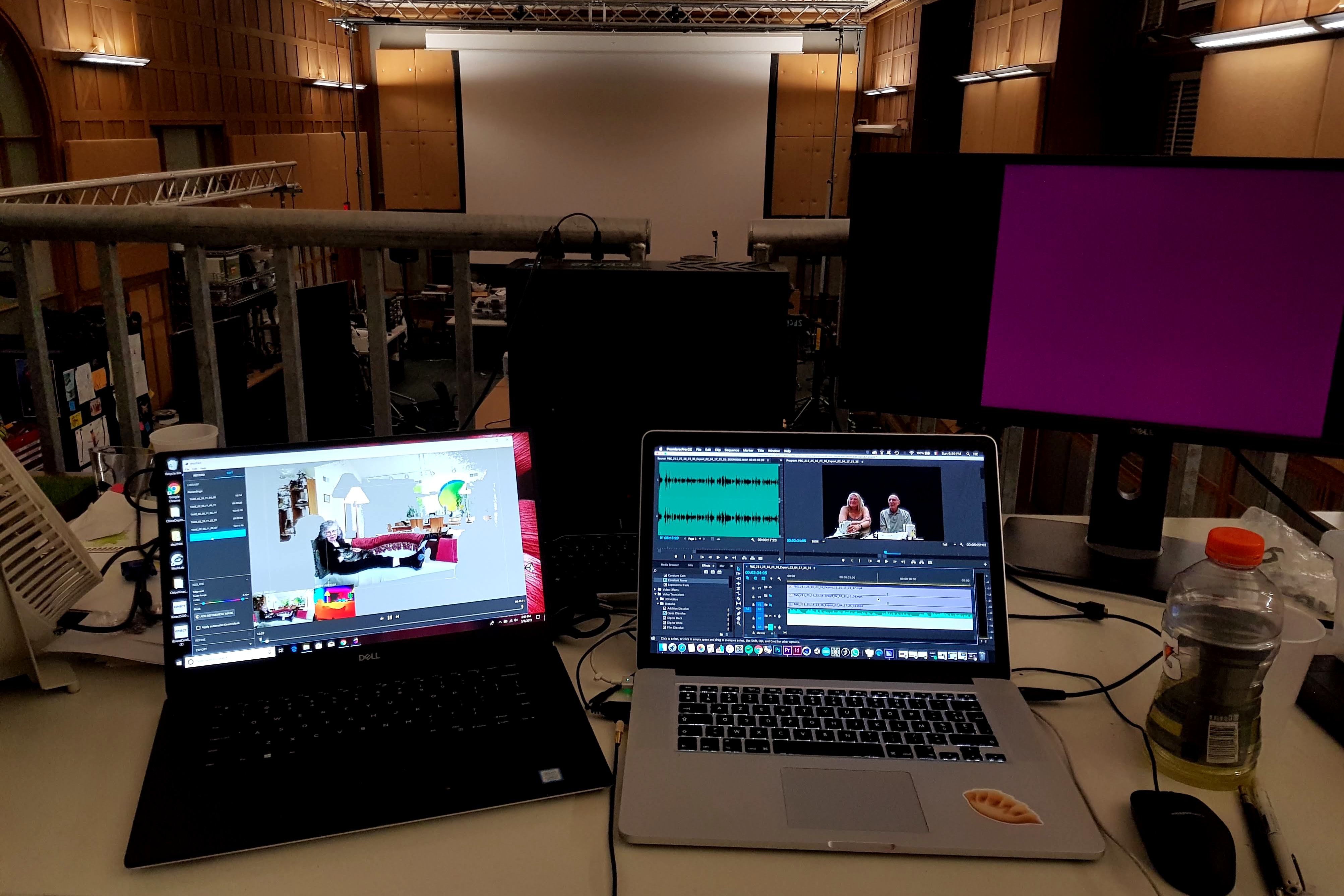 Depthkit to Premiere Pro to Unity Workflow




Three more people answered my updated call for participants, which I had sent out to the JCC and the University of Pittsburgh's Brite Program. I interviewed all of them, asking them to tell me their favorite stories and most significant memories. The interview process was effortless — they all enjoyed sharing their lives with me. The hardest part was to complete all the editing in a short period of time: I had taken on the workload of a full film crew in directing, producing, video editing, sound editing and 3D rendering this documentary and I had set out to finish with a product I was proud of.




Tests on the Looking Glass





︎PART V: LOOOKING GLASS

I executed significant tests on the LookingGlass, which was my original display method, in parallel to filming. Although the display looked amazing, the frame rate was extremely low when trying to render a film and the size of the LookingGlass bothered me. I wanted this project to generate empathy and I didn't believe that sharing this story at such a small scale, a scale where the viewer stays external and looks in, was the way to do so. For this reason, I moved away from the LookingGlass and towards a large scale projection installation.






Still from V: The Brooklyn Pastram




︎PART VI : USE OF COGNITIVE CUES

The whole film was created in order to include as many cognitive cues, which trigger memory, as possible. This includes an experimental video mapping technique, where I hacked the workflow to include archival b-roll provided by the interviewees onto the background. In addition to the family footage I was given, I commissioned my composer to create a score which related to and included sounds from the original stories. For example, Mrs. Stolzenberg speaks of a song called "Mrs. Brown You Have a Lovely Daughter" by Herman's Hermits in the interview V: The Brooklyn Pastram. Consequently, Alexander Panos included core melodies from the song as a way to create associative memory triggering. Similarly, I : The Sweettalker uses traditional Persian melodies, and the score from II : The Poker Group is adapted from traditional melodies from the church.




Me giving a talk about this project at the Frank-Ratchye Studio for Creative Inquiry
for Pittsburgh Processing Community Day 2019


︎

FUTURE CONSIDERATIONS & CONCLUSION

To stay consistent with the neuroscience theory behind the project, I have redistributed the individual films to the interviewees for them to rewatch at their own leisure. Although I most likely will not be executing an in-depth follow-up experiment, I will stay in contact with my protagonists.

From a personal standpoint, the support and response to the work (especially by those involved in it) has been overwhelming. The gift of meeting new people and sharing a deeply intimate moment with them was the true personal goal and I consider it achieved. Seeing my grandfather thrilled at the sight of himself projected at 1:1 scale in a contemporary gallery is an even sweeter outcome. "You're going to make me a star!" he had said. I overhead 5 year old Romy J. telling her father that she "really liked it but wasn't expecting it to be so sad," even though the verbal content of the film is quite cheerful. The fact that a five year old understood the complexity behind a seemingly simple narrative like this one gives me infinite faith in the impact of storytelling.




Jerry & Jackie Stolzenberg in front of 'V: The Brooklyn Pastram'








This project was supported by The Frank-Ratchye Studio for Creative Inquiry at Carnegie Mellon University, and the Frank-Ratchye Fund for the Arts at the Frontier. Many thanks to all my protagonists, Jerry and Jackie Stolzenberg, Margaret Laske, Siamak and Joan Adibi, Candy and Pat Loughney and Patricia McCann, as well as the Pittsburgh Jewish Community Center and the University of Pittsburgh Brite Program.

Finally, I'd like to extend a special thank you to Golan Levin and Dylan Vitone for their invaluable friendship and mentorship.

This film is dedicated to Jerry and Jackie Stolzenberg, my grandparents, whose love of storytelling inspired me to listen and tend to my own.
This website and its content is copyright of Chloé Desaulles, unless stated otherwise. All rights reserved.

© Chloé Desaulles, 2022